This will be the Mash beer festival 2022, with Cierzo Brewing on the bill
A new edition of Mash is here, one of the best beer festivals in Europe, which, as on previous occasions, will be held in Barcelona.
¿What's the Mash?
This is a festival that is now in its fourth edition and does so after 2 years without being held due to the Covid 19 Pandemic. On October 28 and 29 they will meet at Nau Bostik, in the Barcelona neighborhood of La Sagrera, 45 breweries from the United States, Europe and also different places in Spain.
Tickets for the festival are available at their web site, although at the time of writing this article the Saturday and VIP tickets were already sold out. The advance price for each day is €24.50, including the official glass, priority access at 1:00 p.m. and 3 tokens, which is the form of payment for beers during the festival, ranging between 2 and 3 tokens (1 token = 1 euro).
In addition to the 300 different beers that will be played throughout the weekend, there will be food stalls with different gastronomic specialties and the music will be provided by several DJs. But without a doubt, if there is one thing that characterizes this festival, it is the large number of top-level international breweries that will come together, highlighting a good presence of American factories, the cradle of the craft beer movement. All this, in the incomparable setting offered by the Nau Bostik, an old factory that now serves as a space for meeting and artistic creation.
A festival that is very worthwhile, especially for the most enthusiastic brewers, and that this year incorporates 15 new brands, including Cierzo Brewing. There we will be enjoying all that great atmosphere, making friends, meeting up with others and making our beers known, among which there will be several of the latest releases and also fresh batches of classic references, such as Citra.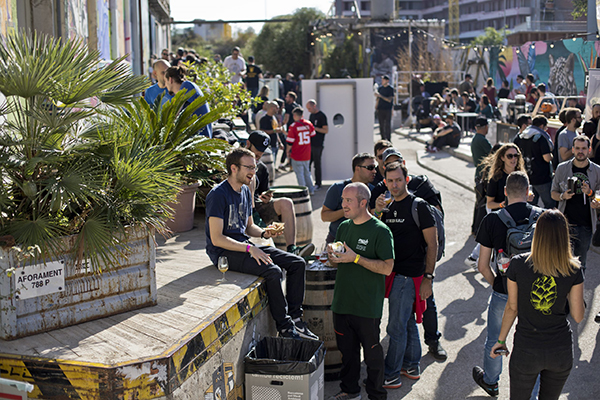 Breweries confirmed for Mash Beer Festival 2022
Tripping Animals (Florida, USA)
Track (Manchester, UK)
Outer Range (Colorado, USA)
Verdant (Cornwall, UK)
Humble Sea (California, USA)
Cyclic (Barcelona)
Hudson Valley (New York, USA)
Lervig (Stavanger, Norway)
Gross (Donostia)
Other Half (New York, USA)
Northern Monk (Leeds, UK)
Finback (New York, USA)
Oddity (Barcelona)
CRAK (Padova, Italy)
Barrier (New York, USA)
La Calavera (Girona)
Deya (Cheltenham, UK)
Civil Society (Florida, USA)
Oso (Madrid)
Fuerst Wiacek (Berlín, Germany)
Vitamin Sea (Massachusetts, USA)
Laugar (Biscaia)
Left Hand Giant (Bristol, UK)
Stigbergets (Gothenburg, Sweden)
Monkish (California, USA)
Soma (Girona)
Naparbier (Navarra)
Whiplash (Dublín, Ireland)
Espiga (Barcelona)
The Veil (Virginia, USA)
Garage (Barcelona)
Põhjala (Talinn, Estonia)
Cierzo (Zaragoza)
To Øl (Copenhagen, Denmark)
La Pirata (Barcelona)
Equilibrium (New York, USA)
Basqueland (Donostia)
The Piggy (Liverdun, France)
Freddo Fox (Barcelona)
Cloudwater (Manchester, UK)
Península (Madrid)
Dougall's (Cantabria)
White Labs (California, USA)
3 Sons (Florida, USA)
Stu Mostów (Wroclaw, Poland)