The importance of pairing in the world of craft beer
Every craft beer lover will agree that the right pairing can further elevate the experience of tasting a good beer. At Cierzo Brewing we have the advantage of having a brewpub in the center of Zaragoza, where we can offer our customers a complete experience, not only with our beers, but also with the food. We believe that pairing is an essential part of this experience, since it can highlight the flavors and aromas of both elements and create a perfect synergy on the palate.
Beer pairing is an art in itself. As with wine, different styles of beer pair better with certain foods. Some beers are more bitter, while others are fruitier or spicier. These characteristics can enhance or contrast the flavors of the dishes, and that is why it is important to consider pairing when choosing which beer to have with a particular meal.
At Cierzo Brewing we brew a wide variety of beer styles, from refreshing lagers, to superaromatic IPAs, or intense, dark stouts. Each style has its own characteristics and flavor profiles, giving us a large number of options to pair with different types of foods.
10 infallible pairings
Here we present ten examples of pairings that we have tried in some of the tastings we organize in our brewpub:
Seafood with Lager: a light, refreshing lager perfectly complements the delicate flavors of fresh seafood, such as oysters or prawns.
Spicy food with IPA: the intensity of hops in an IPA can counteract the spiciness of dishes like curries or spicy tacos, creating a balance between heat and bitterness.
Saison with mild cheeses: the acidity and spicy notes of a saison complement beautifully with soft, creamy cheeses, such as brie or camembert.
Red Ale with grilled meats: the caramelized malt and toasted flavors of a Red Ale marry perfectly with the juiciness and smokiness of a grilled meat.
Weizen with dishes wich contains wheat: the smoothness and fruity character of a Bavarian-style wheat beer harmonizes perfectly with wheat-based dishes, such as salads or pasta dishes.
Stout with chocolate desserts: a rich, dark stout can enhance the flavors of chocolate, creating a delicious combination.
Pale Ale with chicken: the freshness and balanced bitterness of a Pale Ale perfectly complement the smooth, light flavors of chicken.
Belgian Tripel with spicy dishes: the spicy and fruity notes of a Belgian Tripel complement wonderfully with spicy dishes, such as curry or chicken tikka masala.
Pilsner with fish dishes: the cleanliness and freshness of a Pilsner is the perfect complement to light fish dishes, such as ceviche or sushi.
Sour with acidic dishes: a good Sour can balance the acidic flavors of dishes such as ceviches or salads with vinaigrette, creating a refreshing combination.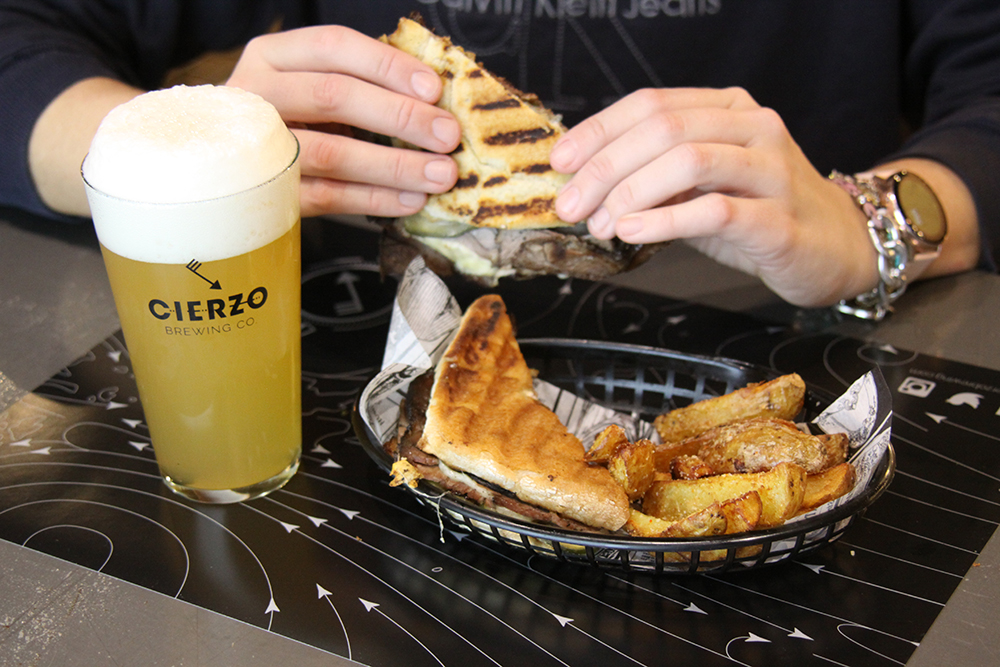 These are just a few examples of successful pairings we've tried at our brewpub. The key to a good pairing is to experiment and try different combinations to find out what works best for your palate. At Cierzo Brewing, we're always looking for new ways to pair our beer styles with delicious dishes, and we look forward to sharing these experiences with our customers at our paired tastings and themed dinners.
If you are looking for a unique beer pairing experience in Zaragoza, we invite you to visit our brewpub in the city center. Our team of experts will be happy to guide you through a culinary and beer journey that will leave you wanting more. We are waiting for you at Cierzo Brewing!