Birragoza: Zaragoza's craft beer festival
Like every summer, the best craft beer festival in our city is here, so we take the opportunity to review its history and analyze what this year's edition will be like, which will be held on August 26 and 27.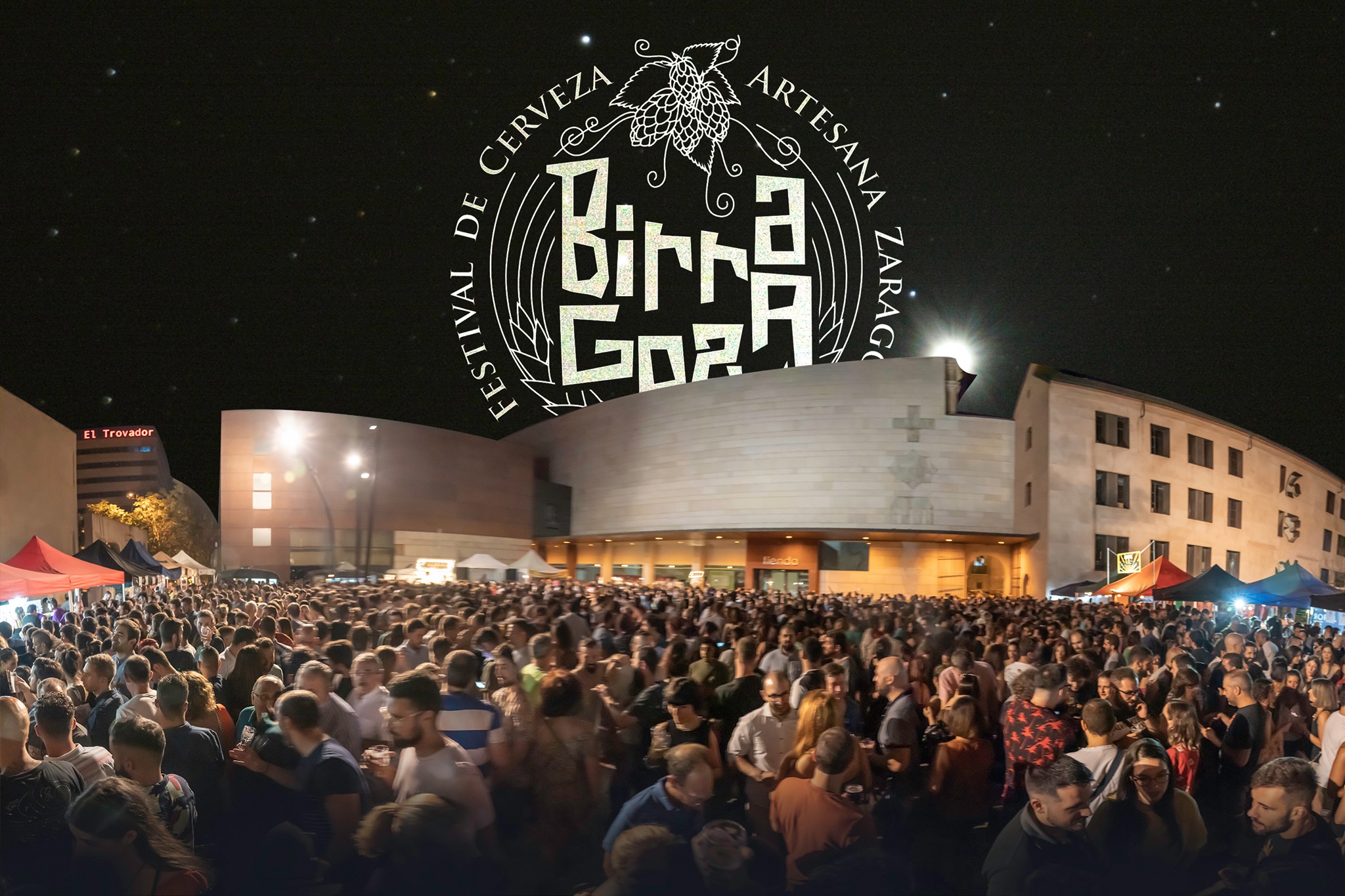 9 years worshiping craft beer in Zaragoza
Birragoza is an annual event organized by the distributor Lupulus, which for 2 days offers the chance to taste the creations of some of the best craft breweries in Spain and Europe, as well as another series of activities such as tastings, workshops, presentations and events. musicals. The first edition of this festival, whose visible head is Sergio Ruiz, brewmaster of Cierzo Brewing, took place in 2012 and since then it has maintained its current location, in the Centro de Historias, in the Zaragoza neighborhood of La Magdalena.
This ninth edition is special as it comes after two years of cancellations due to the COVID-19 pandemic. Which will undoubtedly increase the desire to enjoy all the attendees, who will be distributed among the 19 beer stands and 3 foodtrucks that will attend the festival this year. As every year, access is free and to be able to taste the more than 100 craft beers that will be available, it will be essential to purchase the official Birragoza glass, at the price of 6 euros and which is accompanied by a festival guide and a beer.
Cierzo Brewing has been present at Birragoza since the birth of the brand in 2018, with that year's edition being our first public appearance, months before the opening of our brewpub. We will attend with a stand of 9 taps, in which there will be beers of all styles, but with special emphasis on IPA and other references in which hops are the protagonist. The prices of the beers, as in the rest of the stalls, will range between 2.5 and 3 euros.
The list of participating breweries
The organizers of the festival have been in charge of putting together a very attractive list of invited breweries, in which some of the best factories in Spain are present. Of course, there will be a wide representation from Aragon, which will demonstrate the good level of beer that we have in our region.
Cierzo (Zaragoza)
Hopalaa (Jelgava, Letonia)
Basqueland (Hernani, Gipuzkoa)
Ales Agullons (Sant Joan de Mediona, Barcelona)
La Font del Diable (Vilanova i la Geltrú, Barcelona)
Caleya (Langreo, Asturias)
Dougall's (Liérganes, Cantabria)
Tensina (Tramacastilla de Tena, Huesca)
Yria (Valdemoro, Madrid)
Pyrene (El Grado, Huesca)
Garage (Barcelona)
El Bandido Cucaracha (Villamayor de Gallego, Zaragoza)
Homosibaris (Barcelona)
Rondadora (La Cabezonada, Huesca)
Refu (Bossòst, Lleida)
Màger (La Llacuna, Barcelona)
Attik (Torremolinos, Málaga)
In addition, there will be two stands of the organizers, Lupulus, where you can try barrels of some of the international brands they distribute, such as Ayinger (Germany), St. Georgenbräu (Germany), Weiherer (Germany), St. Feuillien (Belgium ), Malheur (Belgium), Brasserie de la Senne (Belgium), Diole (Belgium) or Dot Brew (Ireland), among others.
The festival program
Birragoza is craft beer, but it is much more than that. It is one of the funniest festivals in our country and it is partly thanks to the different activities that are organized during it. In addition to beer and food, there will be music throughout the day, as well as tastings and workshops, among which we must highlight the one on cocktails with beer, by Víctor Rodríguez, waiter at our brewpub and champion of Aragon in beer drafting and other modalites. Below is the full program of the festival.
Friday, August 27:
12:00 – 16:00. Dj Monkeys Loops.
17:00. Classic beer tasting: 5 craft beers explained by the beer sommelier Guillem Laporta.
16:00 – 19:00. We will enjoy the best funk with our friend Rastaul.
19:00 – Closing. Papa Frita Deejays (Raúl Gimenez and Sergio Ovejero). The best varied music.
Saturday, August 28:
12:00 – 18:30. Funk, acid jazz, bossa nova, latin, afrobeat and reggae by Rastaul.
12:30. Presentation "Hop Cultivation", by Paco Maicas, from Lúpulo de Aragón (Daroca).
13:00. Talk presentation of Aragón Beers
13:30. Tasting of modern beers: 5 craft beers explained by the beer sommelier Guillem Laporta.
17:00. Cocktails with beer by Victor Rodríguez, champion of Aragon in cocktails with beer and draft beer. Reservations and workshop at the Cierzo Brewing stand.
18:30 – Closing. Papa Frita Deejays (Raúl Gimenez and Sergio Ovejero). The best varied music.